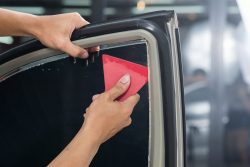 Window tinting has a number of practical applications that make it great for any vehicle. Finding a shop that does window tinting in Webster, TX right, however, can be a headache. Many shops don't offer the service and the ones that do don't always do it right. For window tinting services in Webster, Friendswood, and League City, TX that's done to perfection, trust none other than Clear Lake Auto Glass.
Our window tint experts are masters of applying tint to your vehicle. We're familiar with legal tint limits, the application process and the various tint products on the market. This gives us intimate insight into applying the best possible tint to your vehicle. Whether you're having glass lightly tinted for sun and glare reduction or you're heavily tinting for privacy reasons, we're the shop to administer the right solution.
Our Customers
Our window tinting service in Webster, TX is lauded by numerous satisfied customers, with vehicles from all walks of life. We've worked with private customers, fleet vehicles, luxury vehicles and more, offering tinting services that are truly customized to the vehicle. You've probably seen our tint jobs around town!
Why tint your windows?
There are a wide range of reasons to tint your vehicle's glass. Some of the most common reasons for tinting applications include:
Privacy is increased thanks to window tint. Anyone snooping in your windows will have their vision obscured by proper tint.
Glare and sun reduction are two viable reasons to tint your vehicle's windows. Tint can effectively block sun exposure for an easier driving experience.
Aesthetic reasons are another common tinting reason. Tint is cool—especially when you've put so much work into your vehicle's appearance!
If you're thinking about tinting your vehicle's windows or want to explore the benefits of window tint from a practical standpoint, get in touch with us today. Contact us at 281-488-8885 and will be happy to speak with you about the tinting process, along with our other services, which include auto glass repair and power window repair.